The Delta Dolcevita IT (Italian Technology) pens are full demonstrator versions of Delta's iconic Dolcevita family – Delta's most famous and popular range of pens. These special versions are made of transparent resin and are painstakingly made and polished to ensure complete transparency, and are classically decorated like the Dolcevita series.
They are available as an oversized fountain pen with Delta's brilliant button fill mechanism and with a wide choice of nib widths, and of course sterling silver or vermeil (gold plated sterling silver) trim. It is also available as a fountain pen or rollerball in the mid-size version (which is still quite a large pen), again with the choice of trim and nibs. The nibs are large 14kt gold nibs available in extra-fine, fine, medium, broad, and stub.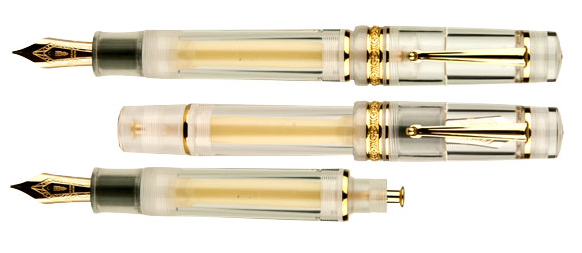 MSRP for the mid-size fountain pen is $850USD and $1095USD for the oversized. An additional $26 premium is charged for specialty nibs.  Street prices are $600USD and $876USD, respectively, plus the nib premium. For more information, see Delta.
---